United Kingdom Gilbert and Sullivan, iolanthe, National Gilbert & Sullivan Opera Company's Chorus and Orchestra / John Andrews (conductor). Opera House, Buxton 3.8.2022. (RJW)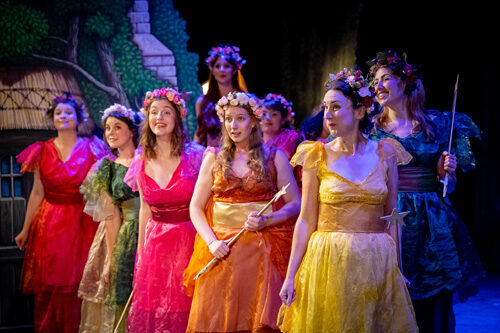 Production,
Director – John Savarin
Scenic Design – Paul Lazzella
Prakash – Matt Cater
Costumes – Litchfield Costumes
Choreography – Mary Holden
Throw:
Lord Chancellor – Matthew Kellett
Lord Mountratt – Ben McAteer
Lord Toller – Hal Cazalet
Private Willis – Matthew Siviter
Straphon – Matthew Palmer
Fairy Queen – Amy Payne
Iolanthe – Meryl Cunningham
Celia – Catrine Kirkman
Leela – Kate Lowe
Fleta – Alexandra Hazardo
Phyllis – Emily Wines
The National G&S Opera Company seems to be going from strength to strength. A well-filled theater fascinated by a brilliant performance under the direction of John Savorin and the musicality of John Andrews. (Andrews is best known for recording Sullivan with the BBC Concert Orchestra.)
It was a great pleasure to open the curtains on Paul Lazell's rustic Acadian setting. The exquisitely choreographed troupe sang their 'Tripping Heather' to perfection. The lighting was also well choreographed to elevate the mood set by Sullivan's sprightly music at this point. The fragility of the moment was for me somewhat influenced by some unnecessary up-staging antics by Celia in what WSG might have considered a "pork pie" moment.
The Fairy Queen (Amy Payne) Dressed Elegantly and Not Too Fat With Strephon (Matthew Palmer), the trio sang brilliantly throughout the show, most notably in the love duet, "Nobody Will Separate Us", and Queen's single, "O Foolish Fay". It took some time for Stephen's modern suit and flat cap to get used to the look of Brich of George Sheringham's silky bombazin.
Strefon and his beautiful Phyllis were well-matched in harmonious tones and acted with sincere passion for each other. The long march of fellows was intelligently cut so that the opening fanfare quickly ran into their chorus number, 'Loudly Let the Trumpet Bray'. However, her choreography in elegant robes was seen to retain some smart d'oeil carte moves. Bridget d'Oyly Carte always said to the new producers, 'I will not allow you to get rid of the robe of companions for the entry of peers in Act I'.
As the teammates' scene develops, they swap their crowns for bowler hats and are given individual personalities. With neat groupings and stage business, this made their conversation with the lucky couple very convincing. I loved his tea party and the bustle that went with it, perhaps a true reflection of the Westminster Terrace activity in London. The resulting 'Blue Bloods' scene came together, with Lord Mountrat (Ben McAteer) and Tollor (Hal Cazalet) singing to perfection. The Lord contemplated his demise, while the Lord Chancellor offered himself the opportunity to fill up with sandwiches from the adjacent tea trolley. Frozen moments of action, enhanced by changes in lighting, were introduced into moments of solitude. It was a nice touch to the production, and was an instrument appropriately repeated in the finale of Act I during the Queen's chant. Finale's vocal powers were superb and he made us sing one of Sullivan's best written finals with great power. It was professional theater at its best.
Act II revealed an authentic and charming setting of Westminster Square, which was based on the setting used by the 1919 set of Bridges Adam. The Chancellor's confident manner (Matthew Kellett) was charming and his melodious voice was much appreciated. He delivers a candid rendition of the Nightmare song and is shown sensitively while conversing with Iolanthe at the time of their unexpected meeting. A confident Private Willis (Matt Sivitter) adds joy to the performance by giving his opinion of Parliament from the point of view of a common guardsman, with Gilbert's lyrics 'The MPs are leaving their brains out'. This is as true today as it was written in Victorian Britain of 1882.
Raymond J Walker